Ron's Journey: From Supporting His Family to Supporting The Arc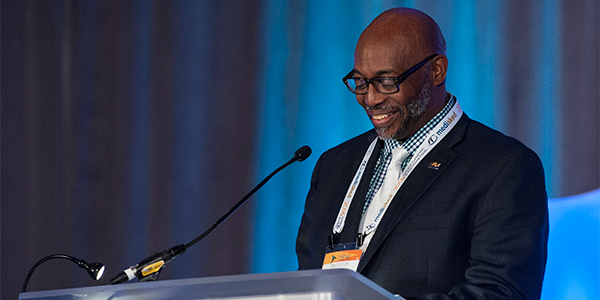 Ron Brown's involvement with The Arc started by asking for help.
Ron's daughter, Felicia, was two and a half years old when diagnosed with a developmental disability as a result of cancer treatment. Ron and his family were desperate for guidance as they began the journey of navigating an unfamiliar path securing resources and community supports for Felicia.
Ron reached out to The Arc of the Capital Area in Austin, Texas for information and referral services to support Felicia. His motivations were initially just to help his family - he sought advice on how to secure a future for his daughter. As Ron's family received vital information and support from his local chapter, he began to realize that there were many other families in the same situation who would benefit from help, just like his.
"The Arc helped me, knowing families were out there that have traveled the same road that I had to travel. I became interested and concerned about how other families were being supported . . . and how I could give back."
Ron's desire to support this community and ensure that The Arc could continue to provide services to families like his led him to take on progressively significant leadership roles. After becoming increasingly involved in his state, he eventually became President of The Arc of Texas and is now finishing his term as immediate Past President of The Arc's National Board of Directors.
After holding positions at so many levels within the organization, Ron knows how important it is for The Arc to thrive at the national level, supporting the work of state and local chapters so they can continue to advocate and be there for future generations.
"The people we serve will always be there. If we are not there to help facilitate, advocate, and demand supports and services, they will be left behind. If we at the national level do not support our organization at a state level and then locally, we lose the power that it takes for all of us to be successful. We have to develop the tools and resources that drive our state and local efforts."
Ron's daughter Felicia recently passed away; however, the dire need for support in families like his continues to be a driving force for his advocacy and contributions to the organization.
Ron knows that a family's future planning, which can include supporting your favorite charities as part of a bequest, can ensure the sustainability of The Arc's future. Changes happen throughout our lives, and it is important to have conversations - as difficult as they can be - to ensure family trusts and other planned giving vehicles are up-to-date. Upon the death of a beneficiary, the remaining assets can be donated towards organizations like The Arc.
The Arc has been with Ron and his family throughout their journey with their daughter, sharing successes as well as supporting them during times of hardship. While the family's initial financial plans had to be altered, they take comfort in the fact that they can give back and help The Arc, which has helped them so much. They encourage others to do so as well to protect the future of The Arc for generations to come.